Have you ever wondered why pizza is often referred to as a slice of heaven?
Some may argue that it's simply because it tastes divine, while others believe there is something more magical about this beloved dish.
As you step inside the Butchertown Pizza Hall, prepare yourself for a culinary journey like no other, where history and tradition blend harmoniously with innovation and creativity.
The origins of pizza can be traced back to ancient times, where flatbreads topped with various ingredients were enjoyed by civilizations such as the Greeks and Egyptians.
However, it wasn't until the 18th century in Naples, Italy that the modern incarnation of pizza truly took shape.
The classic Margherita pizza was created in honor of Queen Margherita during her visit to Naples in 1889, featuring vibrant red tomatoes, creamy white mozzarella cheese, and fragrant green basil leaves.
From there, pizza quickly gained popularity not only in Italy but also across the globe, captivating taste buds with its perfect balance of flavors and textures.
Today, countless variations exist – from meat lovers' pizzas piled high with savory toppings to vegetarian options bursting with fresh vegetables – ensuring that there is a slice for every palate.
So join us on this delectable exploration as we delve into the rich history of pizza and uncover legendary pizzerias that have become institutions in their own right.
Get ready to indulge your senses and discover why stepping into the pizza hall is truly like entering a slice of heaven.
History of Pizza: From Ancient Origins to Modern Sensation
Pizza has a fascinating history, starting from its ancient origins to becoming the modern sensation we know and love today.
The evolution of pizza is an intriguing journey that takes us back to ancient times when it was simply a flatbread topped with various ingredients.
Over time, this humble dish underwent several transformations and innovations, eventually giving rise to the modern pie we enjoy today.
The cultural impact of pizza cannot be overstated. What started as a simple street food in Naples, Italy, quickly spread across the globe and became a global phenomenon.
Pizza has transcended boundaries and cultural barriers, becoming a staple in many countries around the world.
Its popularity can be attributed to its versatility and ability to adapt to different tastes and preferences.
Whether you prefer classic Margherita or loaded meat lovers' pizza, there is something for everyone.
Through its evolution from flatbread to the modern pie, pizza has become more than just a meal; it's a symbol of unity, comfort, and indulgence.
It brings people together, whether it's for family gatherings or late-night cravings with friends.
Pizza has truly earned its place in our hearts and stomachs as one of life's greatest pleasures.
So next time you take a bite of that cheesy slice, remember the rich history behind it and savor every delicious moment.
Exploring the Many Flavors of Pizza: From Margherita to Meat Lovers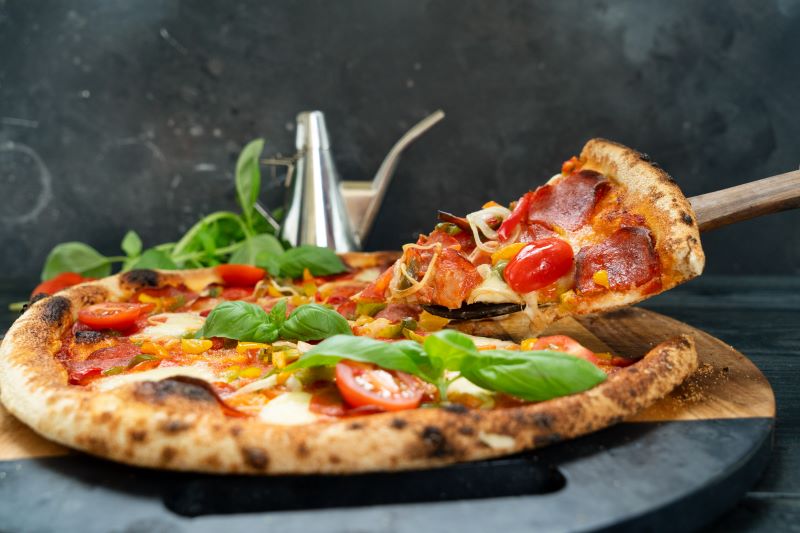 Indulge yourself in the wide array of flavors, from classic Margherita to savory Meat Lovers, and discover that one out of every three Americans considers pizza their favorite comfort food.
Pizza is not just a single dish; it's a canvas for endless culinary possibilities. Whether you prefer a thin crust or deep-dish, there is a pizza flavor to satisfy every craving.
When it comes to exploring the flavors of pizza, don't limit yourself to traditional options. Vegan pizza alternatives have gained popularity in recent years, offering plant-based versions of this beloved dish. From cashew cheese to cauliflower crusts, these creations are not only delicious but also cater to those with dietary restrictions or ethical concerns.
Additionally, regional pizza styles add another layer of diversity to the world of pizzas. Take a trip across the United States, and you'll encounter various regional specialties like New York-style thin crust with its foldable slices or Chicago deep-dish packed with layers of cheese and toppings. Each style has its own unique charm and flavor profile, reflecting the cultural influences and preferences of different regions.
Pizza is more than just dough and toppings; it's an adventure waiting to be savored. With vegan alternatives expanding our choices and regional styles showcasing different culinary traditions, there's always something new and exciting on the menu for pizza lovers everywhere.
So go ahead and explore the wide range of flavors available – your taste buds will thank you!
Legendary Pizzerias: Iconic Institutions and Hidden Gems
Embark on a culinary journey to discover the legendary pizzerias that have become revered institutions among pizza connoisseurs and are waiting to be unearthed by you. These establishments aren't just places to grab a quick bite; they're destinations for pizza pilgrimages, where food enthusiasts from all corners of the globe come together in search of the perfect slice.
From the bustling streets of Naples, Italy, where pizza was born, to the hidden gems tucked away in small towns across America, each pizzeria offers its own unique take on this beloved dish.
The art of pizza making is truly a craft that's been perfected by master pizzaiolos over generations. As you step into these hallowed halls of pizza greatness, you'll witness firsthand the secrets and techniques that make these pizzerias stand out from the rest. Whether it's hand-stretched dough made with only the finest ingredients or wood-fired ovens that impart a smoky flavor to each pie, every element is carefully considered and executed with precision.
You'll find yourself marveling at how such simple ingredients can come together to create something so extraordinary.
So pack your bags and embark on a pizza pilgrimage like no other. Explore the rich history and traditions behind each legendary pizzeria as you indulge in their mouthwatering creations. From classic Neapolitan margherita pizzas adorned with fresh mozzarella and basil leaves to decadent meat lovers' pies loaded with savory toppings, every bite will transport you closer to heaven. Get ready to experience firsthand why these iconic institutions and hidden gems have earned their rightful place in the pantheon of pizza perfection.
Conclusion
In conclusion, as you walk out of the pizza hall with a satisfied belly and a contented heart, it's clear that pizza truly is a slice of heaven. The history of this beloved dish stretches back centuries, from its humble beginnings in ancient civilizations to its modern-day status as a sensation.
With each bite, you're transported through time and space, experiencing the evolution and innovation that's shaped pizza into what it is today. From the classic Margherita with its vibrant colors and harmonious flavors to the indulgent Meat Lovers topped with an abundance of savory ingredients, there's a pizza for every palate.
The variety and creativity found within this simple yet versatile dish are boundless, captivating taste buds across the globe. It's no wonder that pizzerias have become legendary institutions, revered by locals and sought after by travelers in search of culinary bliss.
As you savor that last cheesy bite, remember that behind every perfectly crafted slice lies years of passion, skill, and dedication. It's through the hands of talented pizzaiolos that these edible works of art come to life.
So next time you find yourself craving comfort food or seeking an unforgettable dining experience, step into a pizzeria and let yourself be whisked away on a journey unlike any other. Your taste buds will thank you for it.